Missions We Support
John, Elizabeth McWhorter-Oriokot and Gavriella.
Greetings from Uganda! We are the Oriokot family. We live in a remote village in Africa  where God has called us to make disciples who make disciples. The remote people group we minister to have hearts hungry for Jesus. The "harvest" is so plentiful it can be overwhelming. We need more "harvesters."  And so our mission is training up indigenous missionaries and sending them out. The challenge we face now is that many of those sent out cannot sustain themselves. So our goal is now two fold. That indigenous missionaries be sent and that they reach self sustainability. We are aiding in this area through teaching them project planning and helping them build their own businesses/farms. We are also involved in evangelism, prison ministry, and children's ministry as a tool of building relationships with our community.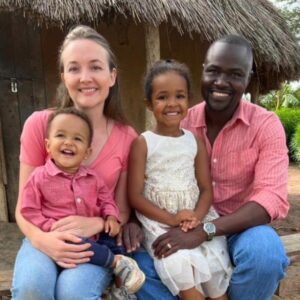 You can follow us by sending us your email at john.liz.oriokot@gmail.com, or befriending us on FaceBook: (John Elizabeth Oriokot). We are always open to receiving visitors, especially those interested in becoming long term missionaries who are in need of training.
You can support our work by making a tax deductible donation with the paypal link below:
Micah Mariano, 3:8 Ministries, San Angelo, Tx
I have a passion to be a catalyst for the local church, and to see the world reached with the Gospel! As a preacher, my heart is to challenge followers of Jesus to live lives for His glory, so the world can see a clear picture of the good news.
​Micah is a pastor at the Four 56 Church in San Angelo, Texas. He and his wife Cami have four sons.
Kaitlyn Warrington Texas Baptist Missionary
I work with International students at the University of Texas Dallas. I absolutely love welcoming the nations that have come to Texas and letting them know that there are people who will love them, help them, and connect them to the love of God! Here at UT Dallas, there are 8,000 international from more than 100 different countries. The world truly has come to this campus!
Through this work, I get to partner with my husband who serves as the Baptist Student Ministry Director at UT Dallas, and together we love to shepherd college students, whether they are from Texas or around the world. Our hope is that while they are on our college campus, we get to help lead students to discover more about how God has made them and the purpose He has for them. We desire to help these students grow into faithful disciples of Jesus who become disciple makers wherever they go in life.
Aroma Ministries
Rocky and Marka have been ministering in Japan with Aroma Ministries since 2000.
They have 2 children Hana born in 2004 and Kai born in 2009.
​
Kevin & Jessica Cartwright, Church Planter Olathe Kansas
Jessica and I met while International Mission Board journeymen in West Africa, and our life together has always included ministry of some kind, no matter where we lived-and we have moved around quite a bit in our 11 years of marriage.
We are proud parents of three beautiful children Christopher born in 2006, Hope born in 2009 and Sahara born in 2011.
Jessica home schools while I work overnight in the dorm of a local Deaf school in addition to our role as church planters.
Daniel & Tetyana Yarbrough Chosen Generation, Ukraine
We have been missionaries since 2000 (Tetyana) and Daniel (2006) and we were married during University studies  in Kyiv, Ukraine. Shortly after, in 2011 we started the University work in Vinnitsa. Our team was doing consistent Orphan Care with exceptional results. As we continued to do these primary ministries we saw a long term  solution to lessen the number of orphans in Ukraine. The solution? Healthy Families in Ukraine.
Chosen Generation was established in 2016 to serve the orphan, invest in the family, and equip the next generation of missionary in Ukraine. We're excited to invest generationally with you!
Ryan Dalgiesh, Higher Rock Ministries San Angelo, Texas ​
I have been traveling and preaching since 1997. God has blessed me with opportunities to teach the Bible in many settings and many countries. I love preaching to youth retreats, DNows, and camps.
I thoroughly enjoy ministering to college students in any environment. I have done multiple revivals and Bible conferences for church wide audiences.
Ryan is married to Michele and they have 2 sons.
He is the teaching pastor at the Four 56 Church in San Angelo, Texas.